In this review, we'll be looking at the StormGain crypto trading platform.
If you have been spectating or been on the fence when it comes to cryptocurrency, StormGain exchange is the platform you want to check out. This platform enables anyone to get into the crypto game and make smart moves that may lead to decent wins. Cryptocurrencies have been on everyone's lips since the market boom of 2017 from commentators, investors, news presenters, to the average Joe on the street. So if you have been curious, StormGain.com is only a click away.
StormGain's platform offers investors and would-be investors the chance to get in and make their buy orders quickly and conveniently. It provides one of the best solutions in a crowding market in terms of putting in an investment and growing it. It's a great way to assess and profit from either declining or growing digital assets. The platform prides itself with having a friendly user interface and an interactive website.
You can access it on a desktop device or any mobile device including, tablets and smartphones. Whether you are on android or iOS is also not a factor when using this platform. This unique platform not only enables experienced traders to get started on their trading but is also quite helpful to newbies.
If you are starting out, StormGain has you covered. With its comprehensive education section, the platform has successfully converted the fence visitors to traders and investors. It has made conversions by breaking things down in a non-intimidating way to new users.
StormGain Overview
The StormGain platform is not just a website where you get to execute crypto transactions; it's a whole community of teams. Led by CEO Alex Althausen, VP of product and operations Zeev Schnaiderman and a host of designers & managers, the energetic team strives continuously to offer you a superior product.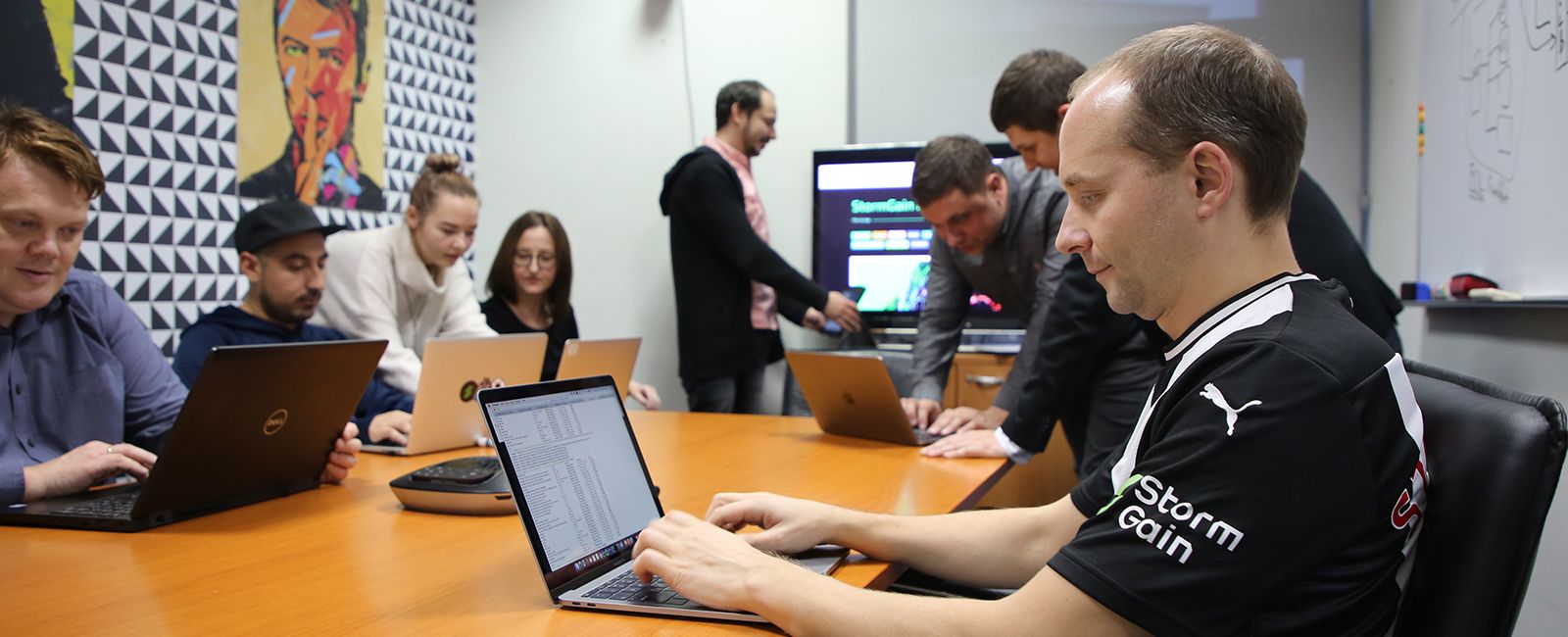 You can quickly put a face to the team heads of the community, by logging on to the site where you will also catch a glimpse of the happy teams at work. StormGain started with the sole mission of helping traders secure gains from the volatile cryptocurrency market. If you have been afraid to get your feet wet because of volatility, you just found the right partner to hold your hand and see you through. Inspired by the desire to make crypto trading less daunting, the platform offers great tools for investing in crypto markets.
It offers a solid trading platform via cryptocurrency future contracts where you can potentially see your money grow and work for you. The platform offers you an opportunity to get in on trends and ride them to your advantage easily. You will also benefit from low spreads, unique order types and trading tools as well as custom long and short signals.
StormGain offers you a comprehensive package born out of a combination of traditional and advanced trading features, as well as an attractive user interface that will keep you interested and engaged. In case of any questions you may have, the platform provides round the clock support to enhance your experience.
StormGain Company
Other than just offering opportunities to profit from down and up trending markets, StormGain is an entity with clear goals. One of them is to be the premier digital asset trading platform in the cryptocurrency space.
The site intends to claim that status by being the best it can be to attract the interest of would-be investors and traders. The company has attracted attention from several players in the industry which includes the space's top ranker, CoinMarketCap.com. StormGain is also a member of the Blockchain Association which falls under the Financial Commission. 
Aside from being an excellent guide in your crypto trading experience, it remains a commercial entity. It has done well for itself as a business enterprise having sealed partnerships with popular publications such as Yahoo Finance, Bitcoin Garden, Crypto Daily, Bitcoin.com and sports sites Goal.com, SportsPro, as well as Sports Business Sponsorship.
It has also sealed partnerships with Finance Magnates, Crypto Potato and English premier league side Newcastle United. Partnering with all these entities gives the site the kind of visibility that probably got you hooked in the first place. The company also boasts of not only a diverse group of staff members but also well-developed tech infrastructure. The kind of infrastructure that makes it possible to have teams working virtually and building their careers in the process.
There is also room for affiliate marketers interested in working with the company. StormGain aids its affiliates by providing robust marketing tools for driving traffic into the site and rewards them fairly and on time.
StormGain Fees
The exchange has made a name for itself by offering some of the most competitive fees and limits in the market. The fees go for all instruments offered on the exchange. The instruments are the crypto exchange pairs that are on offer for trading at a given trading time be it BCH/BTC, BCH/USDT, BTC/BCH and a whole host of other trading pairs. The commissions offered are also quite decent. Check out the below table to see the exchange sizes and commissions given.
| | | |
| --- | --- | --- |
| Instrument | Min Exchange Size | Commission |
| BCHBTC | 0.00000001 BCH | 0.25% |
| BCHUSDT | 0.0001 BCH | 0.095% |
| BTCBCH | 0.00000001 BCH | 0.25% |
| BTCETH | 0.000000001 ETH | 0.25% |
| BTCLTC | 0.00001 LTC | 0.25% |
| BTCUSDT | 0.00001 BTC | 0.095% |
| ETHBTC | 0.000000001 ETH | 0.25% |
| ETHUSDT | 0.0001 ETH | 0.095% |
| LTCBTC | 0.00001 LTC | 0.25% |
| LTCUSDT | 0.001 LTC | 0.095% |
| USDTBCH | 0.0001 BCH | 0.095% |
| USDTBTC | 0.00001 BTC | 0.095% |
| USDTETH | 0.0001 ETH | 0.095% |
| USDTLTC | 0.001 LTC | 0.095% |
| USDTXRP | 0.1 XRP | 0.095% |
| XRPUSDT | 0.1 XRP | 0.095% |
Trading commissions at StormGain are as follows
| | | | | | |
| --- | --- | --- | --- | --- | --- |
| Instrument | Max Mult | Min Mult | Commission (avg.) | Swap Buy (daily rate) | Swap Sell (daily rate) |
| DSHBTC | 50 | 5 | -0.20% | -0.40% | -0.40% |
| BTGUSDT | 50 | 5 | -0.19% | -0.40% | 0.04% |
| ETCUSDT | 50 | 5 | -0.19% | -0.40% | 0.04% |
| ZECUSDT | 50 | 5 | -0.19% | -0.40% | 0.04% |
| ADAUSDT | 50 | 5 | -0.20% | -0.40% | 0.04% |
| EOSUSDT | 50 | 5 | -0.19% | -0.40% | 0.04% |
| NEOUSDT | 50 | 5 | -0.20% | -0.40% | 0.04% |
| OMGUSDT | 50 | 5 | -0.19% | -0.40% | 0.04% |
| IOTUSDT | 50 | 5 | -0.20% | -0.40% | 0.04% |
| QTMUSDT | 50 | 5 | -0.20% | -0.40% | 0.04% |
| TRXUSDT | 50 | 5 | -0.19% | -0.40% | 0.04% |
| XEMUSDT | 50 | 5 | -0.20% | -0.40% | 0.04% |
| XMRUSDT | 50 | 5 | -0.19% | -0.40% | 0.04% |
| DSHUSDT | 50 | 5 | -0.20% | -0.40% | 0.04% |
| XLMUSDT | 50 | 5 | -0.20% | -0.40% | 0.04% |
| LTCUSDT | 50 | 5 | -0.07% | -0.40% | 0.04% |
| BTCUSDT | 200 | 5 | -0.06% | -0.40% | 0.04% |
| LTCBTC | 50 | 5 | -1.00% | -0.40% | -0.40% |
| ETHBTC | 50 | 5 | -1.00% | -0.40% | -0.40% |
| BCHBTC | 50 | 5 | -1.00% | -0.40% | -0.40% |
| BCHUSDT | 50 | 5 | -1.00% | -0.40% | 0.04% |
| ETHUSDT | 50 | 5 | -0.90% | -0.40% | 0.04% |
| XRPUSDT | 50 | 5 | -0.20% | -0.40% | 0.04% |
Bank card commissions stand at 5% with minimum deposits at $50 and maximums at $20,000. Deposits are free of charge with withdrawal fees capped at 0.1%.
StormGain Countries
On the far right side of the site, is a language button that will translate the contents of the site into many different languages depending on your persuasion. Aside from that, the company has made its services available to users in many parts of the world.
The company have its main offices in London, England, but it also provides support and accepts users in Asia, specifically in Japan, Indonesia, Malaysia, Vietnam and China.
It has also spread its wings into Europe providing support in the United Kingdom (UK), France, Germany, Russia, Australia, Netherlands, Austria, Switzerland, Italy, Sweden, Northern Ireland, Spain, Belgium, Poland, Romania, Hungary, Turkey, Ukraine, Slovakia, and the Czech Republic.
They also accept users in South America and North American jurisdictions such as Brazil, Mexico, and Canada. Africa and Oceania are also included in the mix with South-Africa, Barbados, and the Bahamas.
They are currently not offering support to the United States or its territories and possessions. This also excludes areas that have been flagged by the FATF as high risk or non-cooperative. If you are unsure about where your country stands with this site, be sure to contact support for advice. To save you some time though, you should be able to trade if your country does not have anti-crypto laws and you live outside the United States. It would serve you greatly to do some due diligence first, to ensure that your country does not have rules in place that will jeopardize your trading, and expose you to risk.
StormGain Regulation
StormGain does not fall under the jurisdiction of any regulatory body, so it is not regulated. This does not mean that the exchange is not credible. Partnerships with big entities like Newcastle United and other big brands are a sign that the platform is quite trusted. It is also reviewed favourably on forexfraud.com which means a lot.
StormGain Deposit & Withdrawals
Deposits and withdrawals are a piece of cake on StormGain's platform. The platform offers hassle-free ways to deposit your funds and makes it even easier to get access to your money. Simply choose your asset of choice and send funds to the wallet address to buy or click on an asset and withdraw to liquidate. You can deposit and withdraw through your crypto wallets or even through the use of debit and credit cards. Withdrawal is very possible via digital asset ATMs especially if you are dealing in Bitcoin (BTC). Though Bitcoin ATMs are not as widespread yet as they are supposed to be, certain cities have an abundance of them. They can also be easily found in cafes and other leisure spots. As far as crypto deposits and withdrawals go, the table can help provide a clear guide
Crypto deposits/withdrawals
| | | | | |
| --- | --- | --- | --- | --- |
| Currency | Deposit Fee | Withdrawal Fee | Min. amount of deposit | Min. amount of withdrawal |
| USDT | 0.00% | 0.1% | 50.0 USDT | 50.0 USDT |
| BTC | 0.00% | 0.1% | 0.005 BTC | 0.0059 BTC |
| BCH | 0.00% | 0.1% | 0.160 BCH | 0.15 BCH |
| ETH | 0.00% | 0.1% | 0.200 ETH | 0.3 ETH |
| LTC | 0.00% | 0.1% | 0.550 LTC | 0.8 LTC |
| XRP | 0.00% | 0.1% | 160.0 XRP | 240.0 XRP |
Those looking to execute transactions by card would be interested in checking out the commissions as laid out in the table below
Bank cards deposit commissions
| | | | | |
| --- | --- | --- | --- | --- |
| Currency | Deposit commission | Min. commission | Min. amount of deposit | Max. amount of deposit |
| USD | 5% | 10 USD | 50 USD | 20 000 USD |
| EUR | 5% | 10 EUR | 50 EUR | 20 000 EUR |
StormGain Account: Register & Login
As stated before, finding your way through StormGain's website is pretty straight forward. Getting registered is just a few clicks away and almost as easy as opening a Facebook account. It is a very noncomplex process since you get prompted every step of the way. To get started, click on the Easy-start menu and proceed to register.
Get started on stormgain.com/easy-start
Enter your email address
Enter a strong password
Input your cell number
Then enter a promo code to get a welcome bonus (StormGain will provide you the code).
Accept the terms and conditions and confirm that you are not an US citizen
Proceed to create the account 
Confirm your email address on the link sent to your email
Once your account is set-up, you have a choice to make. You can choose to go with a demo account or a live one. Demo accounts are set up for newbies, especially as they get their feet wet in the trading game. You can also have one as a pro if you need to test out some trading strategies.
If you are going live at once though, deposit some funds for the process to complete. StormGain gives you the ability to trade with as much as 100 times leverage within a day. If you scroll down the page, you will see a learning area where all the questions you might have regarding trading will be answered. You will benefit from knowing how to access the profits you have accumulated after a series of successful trades.
StormGain Mobile App
We live in a world where apps make almost everything better and more convenient. Nothing says "we've got you covered" better than a custom app from your favourite solutions provider. The team at StormGain is well aware of that, which explains their cool app that can be found on Android/Google Play and IOS.
The app keeps you informed of any price changes and significant market moves of the day through custom alerts, trading signals and withdrawal setups of your liking. Just like in all the other versions, gains and losses are denominated in the stable cryptocurrency Tether (USDT).
This unique and enticing feature eliminates the high exchange rate risk that has become the norm with high volatility cryptocurrencies like Bitcoin, Ethereum and even Litecoin. Having an app like StormGain's makes crypto trading convenient no matter where you are. You do it on the go by downloading the app on your phone and having access at all times.
Getting the app opens the door for you to easily invest and reap profits from both long term and short term gains. You can get started trading the 23 crypto instruments on offer for marginal trading today. If you are used to the traditional currency pairs such as Euro/USD and GBP/USD, you will be excited to get acquainted with digital pairs such as EOS/USDT, XMR/USD along with 22 other exciting pairs. Log on to the store and install the app and open up a world of digital trading opportunities.
StormGain Safety & Security
The crypto space maybe a beautiful space, but it's also a risky one. Be careful when visiting any site. There are so many malicious actors online looking to reap where they don't sow. As a rational investor, you would want to assess the safety & security of a crypto exchange before putting your money there.
With a moderate level of transparency and several in-exchange security features, StormGain is treated as a safe exchange for cryptocurrency trading. The company behind StormGain is private for certain reasons. However, Alex Althausen, CEO of StormGain is an active person on social media and always shares updates, trending news, company standings with public. So, from that point of view you will get a comfortable range of transparency.
In terms of account security, StormGain has Two Factor Authentication (2FA) for both Google Authenticator and SMS, a higher level of data encryption and cold fund storage for their crypto wallets (built-in). The company is yet to implement login notifications for users by email which obviously will be an improvement.
The exchange company also provides security advice on their website for all users that is summarized below:
Check and recheck the domain name you are visiting. The correct domain name is https://www.stormgain.com. There are so many phishing bugs and spy caches out there looking to get the personal details of unsuspecting people. So before you input sensitive information like your identity, locations, and bank details, check to see if you are on the right site.
Enable 2FA authenticator immediately. You can do this through SMS or the Google authenticator function. This will act as a firewall against any malicious attacks designed to get your information and use it against you.
Select a strong password that's hard for even the people that know you to figure out. Avoid using obvious passwords like birthdays, genders, trendy quotes and nationalities.
You can add an extra layer of protection by adding fingerprint, face recognition and code locks in your device. The more you secure your device, the better for your trading account
Keep antivirus software up to date. You can secure the logins all you want, but it will count for nothing if your device crashes due to malware. You know how crypto works especially if you practice cold storage. You lose the storage device; you lose your holdings; it's that final. Stay vigilant
Never send or disclose your data to anybody no matter how much you think they have earned your trust.
StormGain Leverage
StormGain is where you want to be for favourable leveraged crypto trading. If you are not entirely clear on what leverage means, it means the extent to which you can increase the amount you are trading without having to top up your balance. Players who are interested in holding cryptos, trading or both can benefit from good leverage on StormGain.
The platform not only provides 100 times leverage on your principal on Bitcoin (BTC), Bitcoin Cash (BCH), Ethereum (ETH), Ripple (XRP), and Litecoin (LTC), it also provides excellent tools for your trading success. Generous leverage like StormGain's gives traders the ability to profit even from small price movements and do even better in more significant price movements.
You should also note that this applies the same way when trades go against your direction. This platform has been lauded by many because it gave traders a chance to start quickly without needing a lot of money. With many traders looking to grow their money in a volatile market, their leverage provided a haven for traders. Education also easily comes by on this platform because they recognize the need for inexperienced traders to know about risk.
StormGain has gone out of its way to offer relevant tools that help traders manage risk and stay safe while trading. The trading platform has stood out among the rest, even outdoing major CFD brokers by offering excellent trading terms. Please do your due diligence and check out the platform's features to see if it suits your trading needs.
StormGain Customer Support
Customer support quality can make or break any business and crypto-trading platforms are not any different. Whenever customers have queries or complaints, customer service becomes the go-to. Platforms must, therefore, design their support services in a way that's convenient for both themselves and their customers. It is in their best interest to set up efficient channels of communication to serve the large number of clients they hope to draw in.
StormGain has done just that by having a live chat conveniently placed at the lower right hand-side of every page. The fact that they have lined up different avenues for customer communication under live chat is so well thought out. You can reach out to the customer support team through Whatsapp, Livechat, Telegram, and phone.
The email option is also available, but the former avenues are way faster. So many exchanges go live without having proper support infrastructure for the customers they intend to serve. StormGain has differentiated themselves on this front too by even having phone support, which is pretty uncommon amongst exchanges. You have to be logged in to use features like the live chat. You can quickly get your questions answered by clicking on the chat button, then typing away.
Support is also done in a number of languages depending on what you are comfortable with. The language barrier, therefore, does not stand in the way of customers getting help. Their phone line, telegram contact and email are provided as +248 467 19 57, t.me/StormGain and support@StormGain.com.
StormGain Bonus
StormGain has outdone itself with its generous bonuses programme. They offer bonus funds to traders that can be used to execute trades but cannot be directly withdrawn. To qualify for such bonuses, you must first check out their loyalty programme.
The programme gives the chance to be a standard member (which is the basic), Gold member, Platinum, Diamond, and VIP (which is the highest status). Each membership status comes with an array of benefits that can improve your trading experience.
Benefits come in the form of commission percentages, discounts, and annual interest rates. You automatically qualify for bonus funds if you operate on a status higher than the basic. A client also qualifies if they are active in the StormGain's various programs and campaigns. A client can only get a maximum bonus of 20% of the total balance of the USDT in their account.
It is important to note that bonus funds do not mean that you are safe from all risk. Your funds are backed by the bonus funds and not the other way round. In case of a massive hit, your funds are exposed first before the bonuses are touched in simple terms. Bonus funds do not remain in case you transfer your real funds to another account within the app.
The bonuses are still yours though and will be credited back as soon as you move the money back into your account. Liquidating your real funds does not have the same effect on your bonuses. It reduces your bonus funds proportionate to the amount you have withdrawn.
StormGain Review: Conclusion
This review has covered almost every side of the exchange in a way that sheds light and helps you make an informed decision as you seek a trading platform and partner. StormGain is one of the few crypto exchanges that offer generous crypto trading leverage by 100X.
This simply means that the platform is less demanding capital wise, which is excellent and not off-putting to beginners. It also boasts of advanced features that aid a client's trading experience. The user interface is user friendly and attractive, which probably encourages more conversions.
It is also quite hassle-free to register and set up an account. Setting up an account and going live is much easier than a majority of other exchanges because there are no barriers to trading at all. All you need to go live with StormGain is an email address and 50 USDT, and you are ready to place your first order.
Indicators exist to aid you in decision making in the form of A.I generated trade signals if pure price action trading is not your thing. On top of the generous leverage they offer, they also credit substantial bonus funds to your account if you go past the standard membership.
StormGain's weak point is the fact that it is still a very young entity, yet to stand the test of time and get its name out there widely. If you don't consider its infancy a weakness, then you might want to check it out. An incentive to get you started might be the fact that they offer a free crypto wallet with full features when you get started.